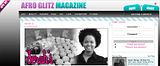 I am so happy to share some good news with you. I was interviewed by Afro Glitz Magazine and it has been posted to their website! Afro Glitz Magazine is an online magazine that serves as an outlet for napptural women while also focusing on community issues and giving talented people their well deserved shine! Click the link below to read my interview:
Serah's Interview on Afro Glitz Magazine
While you're there check out the
other artists
and browse the other links for more great information and online conversation.