December 1st is
World AIDS Day
. This is a day when individuals and organizations from around the world come together to bring attention to the global AIDS epidemic. 2008 marks the 20th anniversary of World AIDS Day. The
National Institute on Drug Abuse (NIDA)
and AIDS.gov are working with
Bloggers Unite
to multiply the power of the voice by thousands to share the knowledge about the AIDS epidemic and encourage participation in the fight against AIDS.
In the countries most heavily affected, HIV has reduced life expectancy by more than 20 years, slowed economic growth, and deepened household poverty. In sub-Saharan Africa alone, the epidemic has orphaned nearly 12 million children aged under 18 years.
1
The latest estimates indicate that at the end of 2003, HIV prevalence— the total number of persons with HIV—was roughly 1 million (estimated range between 1,039,000–1,185,000) [1]. Approximately one-fourth (24% –27%) of HIV-infected persons are believed to be unaware of their infection, underscoring the need to expand opportunities for HIV testing.
2
There is much to be done to combat the spread of AIDS starting with
HIV/AIDS prevention
.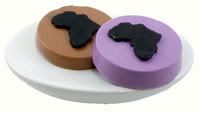 As some of you may know, Serah's is committed to helping in the fight against AIDS. Serah's hopes to donate $1000 to
The Global Fund
. One dollar from the purchase of select items will go towards this contribution. To view the select items, please click
here
.
I WANT TO READ MORE...
Learn more about the
AIDS epidemic
.
Read the
2008 Report on the global AIDS epidemic
.
Related Serah's blog posts:
The Fight Against AIDS
References:
1. UNAIDS (2008)
'Report on the global AIDS epidemic'.
2. Center for Disease Control and Prevention
HIV and AIDS in the United States: A Picture of Today's Epidemic