As a woman-owned business, Serah's would like to share this information with you from Tip Junkie.
Buy from women this holiday season!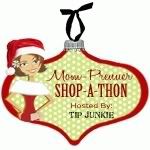 The purpose of this Mom-prenuer Shop-a-thon is to feature unique, fun, and creative gifts you can purchase for your friends, family and yourself this holiday season created by women.
Your friends and family are going to be blown away with your fabulous gifts this holiday season! Here's the link to the Shop-a-thon directory:
http://tipjunkie.blogspot.com/2008/10/mom-prenuers-shop-thon_03.html